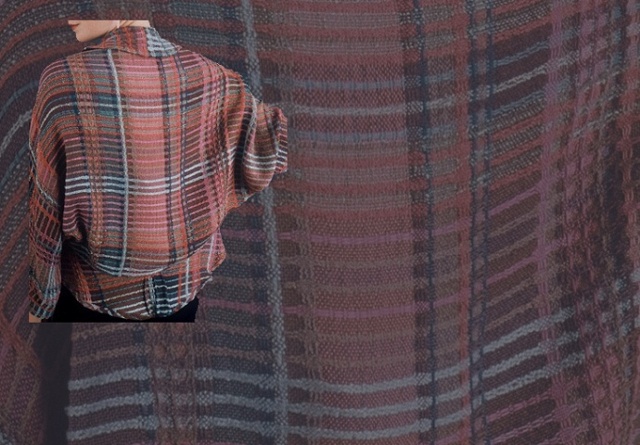 I am a handweaver of artwear, living and working in the high desert plateau country of Galisteo, New Mexico.
I am very influenced by the subtle, natural colors that surround me and dazzled by the array of brilliantly colored yarns that adorn the floor to ceiling shelves of my studio. Currently, I weave primarily with rayon chenille and cotton yarns occasionally adding other luxurious fiber accents. I find the comfort, drape and wearability of this woven fabric to be unsurpassed by any other fiber. Its hand is luxurious. It is suitable for three seasons of wear and has a rich lustrous depth of shade. Additionally, I weave a very lightweight fabric of rayon, cotton and bamboo. Very comfortable for hot summer nights and air conditioning.
I Iove to weave. My body craves the rhythmic motion. I began weaving after years of sewing with a desire to go one step further and create my own fabric for designing and sewing garments. My design inspirations come from everywhere, sometimes even dreams. But they formulate during the many hours spent at the loom throwing the shuttle back and forth. I'm always thinking about the next great piece.
Please peruse my website and contact me if you would like to place an order. I love "meeting" my customer, even if it's thru the world wide web!